Join Our Team!
As one of the fastest growing companies in the region, Insuritas is revolutionizing how consumers shop for insurance and related products! While web-based technology is transforming the way companies interact with their customers, it's the unique combination of

our award-winning technology

and

our amazing people

that truly differentiates us!

And guess what, it's working!
We're always looking for motivated people that can help us fulfill our mission of achieving maximum results for our clients.  Email your resume to

hr@insuritas.com

today!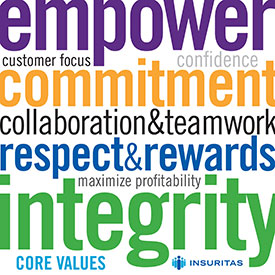 ---
Current Openings:
Technical Specialist
Job Purpose:
This position is responsible for the day to day management of IT processes, as well as internal and external client support. Primary responsibility for this position is to ensure that all scheduled processes run without error each day and ensure that internal and external clients can successfully access systems and websites as necessary. Activities include internal and external customer engagement to solve technical issues, supporting the IT support staff with testing requests and scheduled job management, and hardware inventory management.
---
Insurance Continuing Education Center
Insuritas has joined with WebCE, a nationwide provider of Continuing Education for insurance agents, to deliver all of the web-based courses you need to renew a single license. Paper-based courses and exams are also available in most states.
Insuritas is proud to be an equal opportunity workplace and is an affirmative action employer.